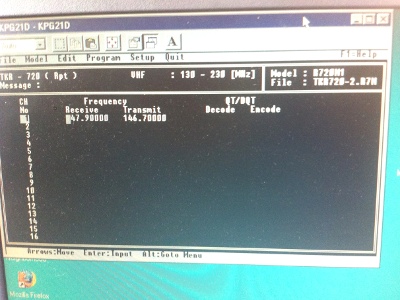 The free running oscillator output is sampled in a divide-by-N circuit and compared to a precision Temperature Compensated Crystal Oscillator (TCXO) operating at 12.5 mHz.
The frequency difference is the "error", which is compensated by the circuit tuning a varactor diode in the oscillator until the frequency is right on.
The "Divide-by-N" is programmable, and by digital magic is calibrated to the actual desired frequency. In this picture we see the software that programs it; you can see the desired TX and RX frequencies as I typed them in.
No purchase ($75 each) of crystals for the receiver, and transmitter needed, nor the need to wait for the crystals (30 days). Just enter the numbers, and ways to go!
This is the KPG-21D programming software running in a DOS Window under Windows 98SE. The laptop has a serial port to connect to the KPT-50 programmer.