I got this beauty in 1965. Before that I had a 1957 Chevvy Wagon with a straight six, and the local Chevvy dealer in Milwaukee made me a deal that was not be refused. This Impala had all the powers: Power Steering, Power Brakes, Power Seat, Power Windows and Powered by a 283-V8 motor. But, being 4 doors and a solid, green color, it had not sold. It had 35 miles on it due to demo rides, but there it sat, unsold, in this dealer's lot. Sticker price was $2,100 and he offered me $600 for the wagon ...
Well, to make a long story short, I drove in that day with the '57 wagon, and drove out with the '64 Impala. Sooner or later I ended up putting in a Link two-way FM radio, single channel, on the Milwaukee 146.94 ham repeater.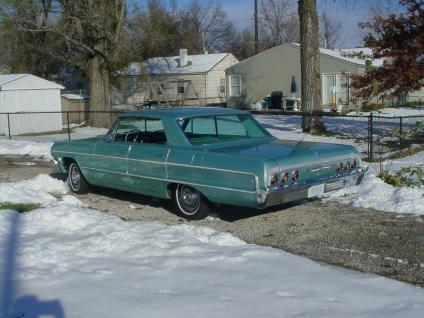 To think ... on e-bay these puppies are going for $25,000 - $50,000 today (2007).
---
Last revised August 8, 2007
Return to Ramon's page
Return to 3 Founders page
Return to Main Page