This is Mark Hubert, WL7MH's, radio at his home. It does everything: AM FM SSB. It is not huge like Ramon's old beasts, but reasonably sized. Its dial glows in the dark, and it shows many more details about the ongoings inside than former models ever did. It covers all bands from 160 meters to 2 meters, thus it not only talks to walkie talkies and portables in the Nome area (on 6m and 2m), but on the shortwave bands it spans the world.
Ramon has expressed a keen interest in this radio, and he is waiting for the right finances to fall in place so he can get one.
Any Technician ham can use this radio on 6m and 2m, but the shortwave bands are mostly for General and Extra Class licensed hams, and Mark WL7MH is a General. He communicates worldwide with this rig, and as of this writing, 8-8-2007, is the only one in Nome that can.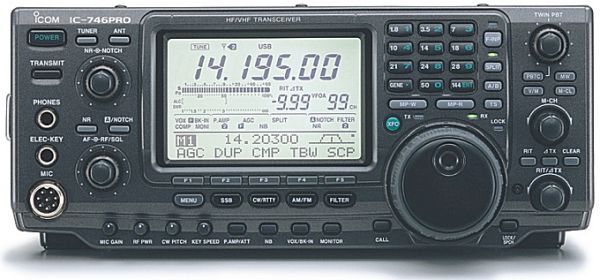 ---
Last revised August 8, 2007
Return to Mark's page
Return to 3 Founders page
Return to Main Page